Purebred Doberman Pinscher Puppies
Personality Tested & Certified
Doberman Pinschers
Purebred Doberman Pinschers
Protection dogs are what is commonly referred to as a "show of force." This means that the appearance or sound of a large, possibly aggressive Doberman can very effectively deter a majority of would-be invaders without having to resort to violence. (And those that it does not deter - protection dogs can at least stall the attacker(s) so you can either draw your weapon, or retreat.)
Did you know that the Doberman Pinscher is the only breed in the entire world that was bred specifically for personal protection work? Every other known breed came to be with the protection of property specifically in mind.
As a result, the Doberman's work as a personal protection canine operates directly in conjunction with their ancestry. They're smart, loyal, protecting and very loving. It is actually their love for their family that makes them such great guard dogs.
Personality Matters
The majority of Doberman owners forget to include one vital aspect when looking for protection, the Doberman's personality!
To clarify, consider a Doberman with an opposite inclination. How many times have you heard (or know of) of a canine running in fear from perceived peril instead of protecting their family or standing their ground?
Warning Signs of Dobermans Not Fit for Protection Training
A Doberman that aces our test would be scored as a type A with our grading system.
To expound, consider a Doberman that is scored with a high personality score (type A according to our grading system). This is a dog that is going to be ready for work.
Experienced dog owners/trainers are recommended for this type of animal in order to train it for protection work. Although someone with less experience can learn to train one if they are firm and consistent. A dog like this would be excellent for both offensive and defensive work.
While we've expressed caution before with this type of personality, we've found in working and socializing our own type A dogs (and puppies) that they are extraordinarily loving and smart.
Our Protection Dog Bite Training eCourse will teach you how you can form a bond of trust with your dog while teaching it to be a fearless protector.
A Doberman like this would be scored as a type D or F with our grading system.
In contrast, a Doberman that scores a timid level (type D according to our grading system) is motivated by fear.
Consider this, what do you do when you are really scared? How are you likely to react? How clearly are you thinking? A dog is very much the same way. A canine with a personality that is lacking confidence and is scared easily will be unpredictable (type F). They are just as likely to bite unnecessarily as they are to run away. Essentially, you've got a wild card.
While D type dogs need caution, they are generally very loving pets. They're more likely to be submissive to their owners and need occasional reassurance that you're not mad at them. Furthermore, they'll probably be great with your children and show them a motherly type love and affection. They're also likely to want to cuddle a lot.
Traumatic Influences:
Furthermore, keep in mind that any dog that is treated wrong can develop a type D personality of a more severe kind. If a dog is abused or experiences a highly stressful or painful event (especially during their fear stage which is between 8 - 12 weeks [this is why we don't ship our puppies without an attendant]) they can be prone to react more out of fear than out of confidence.
Likewise, caution is advised when training a dog for protection work. You want to teach the dog not to be scared when faced with an attacker. This is done by never letting the dog associate their work with pain, abuse or injury - but the assurance that they have what it takes to do the job and stop the bad guy.
Personality Test!
At Tackleberry Solutions, all of our Dobermans undergo a personality test. If they do not pass the test, they do not get certified.
Aside from proper training, personality is a BIG deal for us. If you test a Doberman that is either too aggressive or too timid, you DO NOT train it for bite/protection work.
Likewise, the Dobermans that we breed must have the right personality to cultivate the proper protection/service dog line. We're working to expound and improve the Doberman breed with a personality built to protect and befriend.
That is to say that when the owners do their part to train and socialize their protection dog, they should not have to fear that their dog is going to bite or attack someone when they shouldn't. Our Dobermans are not bred for show, they're bred for service work.
Testimonials
I bought a protection dog Yes!!! All the puppys were in excellent health and they were very knowledgable about the puppys and how to train them They are great people who know what they are talking about. I have actually already told someone who was asking about my puppy where i got her and how awesome and knowledgeable ya'll are! Would 100% reccomend not only for protection dogs but also the war time tactics. You cant find the information and knowledge that they have anywhere else! They are awesome!!
Protection Dog The service you provided was far better than any service I have ever received. The phone conversations were very informative and welcoming. You can tell the care you have for your fur babies and you don't mind sharing your knowledge. I'm very thankful to have met such a wonderful family and am really enjoying my new best friend. I will definitely recommend you to anyone looking for a well trained and lovable Doberman puppy. Thank you again for everything!
Heidi is AWESOME! She is the smartest little girl, and SUCH a lady. She is quickly adjusting to life on our farm and is doing great with conquering her fears. She is no longer afraid of dirtbikes! :p
Therapy dog Yes! Amy and Kit were very informative and took the time to answer all of our questions. They are not just breeders, they put their heart and soul in their puppies preparing them for their new forever home. We are blessed to have found them!
We had several lifelong family pets. None of them were as well cared for as Moose when we picked him up. He joined our family and took to work as a protection dog quickly. Learning commands came very easily for him. On walks we are stopped often and he is constantly complimented on his appearance and personality. Several Doberman owners have fawned over him as being an exceptional animal. Thanks Amy and Tackleberry!!!
I purchased my puppy from Amy Arthur of Tackleberry Solutions when he was 8 weeks old. They are wonderful breeders. She made every effort to ensure I was satisfied during the purchasing process. He is now 5 months old and I am constantly stopped by people to complement his beauty and stature. He comes from good stock!
My family and I decided to add another dog to our family. How ever this time we wanted to not only get a new puppy but get one that will grow into a dog for protection. Upon our search we found Amy's dobermans. Amy was absolutely wonderful. She was super helpful in answering all our questions. We decided on a red female. Our little Mia. Amy took the greatest care of her while she had her. When we picked her up it was love at first sight! Im happy to say Mia is a beautiful healthy pup!
I purchased a Service/Protection. "Ranger" is doing great and adapting to life in Montana. With Amy's assistance I was able to fly home with Ranger on a commercial aircraft and she was stellar, she slept most of the time on two different flights and interacted well with the other people on our flights.
Definitely, this is the first time that I have gotten a Doberman Pinscher from a professional breeder, my family has had 6 Dobie's in our family, versus from a backyard breeder. Amy was such a great resource and very knowledgeable regarding Ranger's personality and training. She has answered ALL my phone calls and emails promptly and offers her assistance any time day or night.
When I drove out to pickup Ranger, I got to see where all the puppies were playing and living and it was obvious to me that they were all very well cared for and were happy pups. I look forward to having a long relationship with Amy in the care of my little girl Ranger.
Certifications and ID Numbers
Every puppy that we breed is assigned a unique ID at birth. This is to help us keep track of who their parents were and what litter they came from (vital for future breeding, rooting out health concerns and personality evaluations).
However, there is more to the ID number than that. Upon completion of our personality test, every puppy (that passes) is certified by Tackleberry Solutions and awarded an individual profile page that features their personality score, lineage, pics and much more.
How to Verify a Puppy's Certificate
After certification, a page is dedicated to each, individual puppy with their personality score, ID number and verification information (sex, color, breed, etc.)
Note: Puppies that don't pass will still be cared for, loved and if possible, given or sold to a home that can fit their needs. The biggest difference here is that they will NOT be recommended for service dog training or breeding.
Why? This is where the ID number comes into play. Anyone that buys a puppy from us, can prove that their dog was certified by Tackleberry Solutions and what their personality score was with that ID number. All they have to do is go to our blog page, and enter that number into the search bar.
If the information that pops up associated with that ID number does not match the specs of the dog (or that ID number doesn't exist), then that dog was not certified by Tackleberry Solutions. As our name grows, so too will the value of your dog.
Furthermore, if you wish to verify the identify and lineage of the dog (for your own breeding purposes), you can do so from anywhere simply by looking at their dedicated page online. Every puppy that we certify will be linked back all the way to their first certified litter of puppies.
This is very powerful because you'll be able to view the dog's lineage and their predecessor's personalities for each puppy that has ever been certified by Tackleberry Solutions.
Personalized Canine Web Page Examples:
We Have Puppies!
Meet the Parents
Tackleberry Solution's Protection Canine: Zeus
Zeus is a 100% European purebred Doberman Pinscher. He is very loving and enjoys playing. While Zeus is protective of his family, he is also very friendly to visitors and does very well with children. Click here to view his personal page.
Tackleberry Solution's Protection Canine: Athena
Athena personally belongs to the owner and founder of Tackleberry Solutions, Christopher Arthur. She is our smartest, most agile and hardworking canine. Athena is the only one of our dogs that excels in every area that we've trained her in: Bite/Protection work, Search & Rescue, and Therapy. Athena loves her job and she shows it when it is time to train. Click here to view her personal page.
Tackleberry Solution's Protection Canine: Patricia
This is Patricia. She has a super loving nature and mama-bear mentality. She is very submissive and cuddly to her family. The amount of love that she has for her "pack" also makes her VERY eager to protect it. Patricia has earned the nickname "Gator" because of her tendency to twist in a death roll while bite training. You can view her page here.
Tackleberry Solution's Protection Canine: Hazel
This is Hazel. She was the mother dog of our very first litter. She has a gentle, yet defensive temperament. She is very loving, she also is smart and not afraid to protect her family. She is also a very good judge of friend from foe. We are not afraid to have her out when friends come over to visit. You can learn more about Hazel by going to her page here.
Certified Purebred Doberman Pinscher Puppies
Bred for Protection Work, Service, or Just Excellent Quality Family Pets
More Testimonials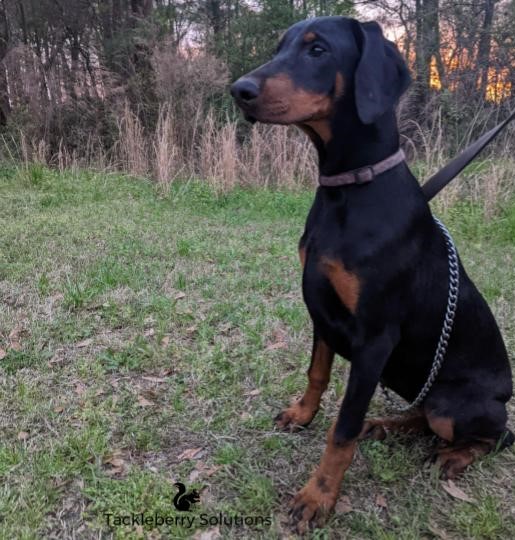 I just got my female Doberman puppy from Amy at Tackleberry Solutions, and the experience could not have been better. I found her to be very helpful, knowledgeable and very willing to answer any and all questions. My puppy (Risk) is doing awesome for her first day in a new environment. She is seven months old and is beyond my expectations. I highly recommend Tackleberry Solutions as the place to go if you are looking for a smart, well bred Doberman puppy!!!!!!
Bottom line up front: 5 ⭐️ isn't enough to justify how amazing Amy and her family are. Amy is an amazing person that really cares about matching her Dobermans with their new family! This will be a lengthy review because there's not enough words that can express how amazing this experience has been.
Click here to read the full review.
I have transported several of her dogs, even purchasing one for myself. They are good quality Dobermans. Would recommend 10/10
I came into contact with Amy through a close friend and protection trainer of mine, David Meyers. I was able to meet a few of Amy's older pups who are just outstanding! But I also got to go meet a few of her younger pups and the parents on their beautiful property in Mt. Olive, NC. I am now the proud owner of sweet Enzo. He's the some of Zeus and Patricia, and boy can I tell you, he's going to be one big, handsome looking man! He is as healthy as can be and when he turns around 7 months old we will be getting him into protection training. But for now, basic obedience, which has been a breeze because he's so willing and smart. Thank you so much Amy for such well bred Doberman's and for all you do for them and us as customers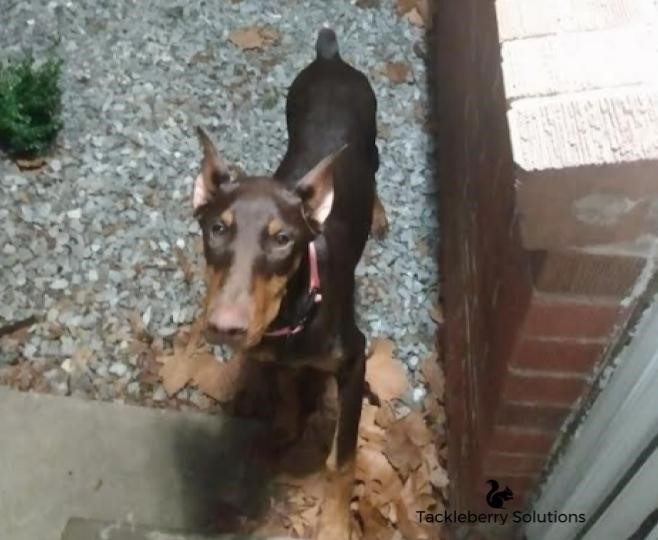 Mrs. Author was an outstanding person to deal with both before and after I got Raina. I was going through some unusual circumstance early in the process and Mrs. Author was always understanding. Not to mention I am computer aliterate, so I was always needing her to talk me through it. Ha!!!

After Raina moved in with me, I had lots of questions. It had been many years since I had raised a pup. Mrs. Author was always there to provide advice and loads of info.

Lastly, Raina has proved to be a top-of-the-line Doby. She catches on to commands quickly and would no doubt be an excellent Personnel Protection Dog with proper training. On a 5-hour PPD training class Raina, during her first class, immediately lounged and clamped down on the trainer's gear. The trainer was impressed. Not many dogs on their first secession immediately know what she is supposed to do. I got videos to prove it. No doubt for a 5-month-old it is in blood.

My thanks to the Author family and special thanks to Mrs. Author. And if you're looking for a Quilty Doby Tackleberry is the place to go!!!!!
I recently bought one of TackleBerry Solutions puppies, a 6-month-old named Merkava. He has been the sweetest and greatest dog that I could ask for. He is a quick learner and is very professional out in public. He matches my energy levels for everything I do and is very manageable as an interactive college student. He does well in public and has done great telling me when he needs to go out and potty. I have learned that he absolutely loves the snow and if I throw a snowball, he chases it and eats it. He is also very goofy because he folds in on himself when he snuggles so his back feet are in his face. He has done well-getting accustomed to cats in the household and enjoys trips to the dog park. We have been playing hide-in-seek with treats and he does so well! My family loves him so much and my brother, who has a history of not liking many dogs, has started spoiling him and cuddling him. Merkava has been a great fit into my life and my family and I couldn't have been happier with my experience. He has helped me better manage my anxiety and prevented PTSD attacks from coming about. He has been able to recognize when I am starting to get anxious or scared, and he will push against my leg to let me know he is right there. He will also search for my hand and push his nose into it so that I can pet him and don't freeze up. This helps me calm down and work through things.
Care & Diet
Because our Dobermans are our personal service companions, they are raised and cared for in the home with a loving environment. Which means they're not kept in kennels and are bred with their health and longevity in mind.
Our farm animals also help supplement their diet with quality ingredients. Which means that they are given farm fresh, cage free chicken eggs, grass fed beef/organs and raw milk/whey on a regular basis.
As a result, they're healthier, stronger and smarter than most canines that are raised in a kennel environment with commercial, cancer-causing dog food.
"A dog is the only thing on earth that loves you more than he loves himself."– Josh Billings
Make Your Deposit to Get a Puppy
Where are we located?
We also offer shipping through approved services.
Home Coming Gifts
First of all, as you already know, our puppies will come with a certification award stating their personality score, along with a dedicated page and a hand-cast, stainless steel dog tag with their ID number.
Reducing Buyer Stress
Second, we will send you with a health guarantee along with vaccination and deworming information included in our puppy contract.
Third, our goal is to ease the stress of buyers and provide them with everything that they'll need to get started with their new baby. So we will send each puppy with a care package.
Care Package Contents
*Keep in mind that all of these gifts are optional to your needs and may also vary from litter to litter.
Bite Training eCourse
Every puppy that is personality tested and certified by Tackleberry Solutions comes with free access to our Protection Dog eCourse. This online course functions as an educational asset on an introductary level for those looking to train their forever canine in protection service work. Click here to check it out.
Puppy Chow for Large Breeds
I'll be sending you home with a bag of dog food (the brand we've been feeding them) to hold you over for a little while. You can also use this dog food to help wean them onto the brand you like without upsetting their digestive system too much. *I recommend you supplement their food with broth, coconut oil, apple cider vinegar, raw eggs, organs or meat.
Training Treats
You can use this to keep your new baby happy on the way home or save it for your very first training sessions (start early.) Either way, they will come in handy.
Dog collar and ID Tag
This collar will be specially fitted to your puppy's current size (I've found that it is hard for buyers to get their new pet a collar when they don't know how big they are). So while you'll have to get a bigger collar for your beautiful dobbie when they are grown, this will hold you over for a few weeks at least.
Chain Leash
Puppies in particular like to bite at leashes. I've found that there isn't anything better to prevent that than a chain leash.
Ear Posting Kit
Our puppies may come with their ears cropped. If that is the case, I can show you and send you with the materials that you need to post and care for their ears.
Places Our Puppies Live
People have gotten our puppies from all over the country: Washington, Montana, California, Arizona, Texas, Idaho, Missouri, Mississippi, Maryland, South Carolina, West Virginia, and of course, North Carolina.
We are located in Mount Olive, NC. However, we do work with approved transportation to locations all over the country. Distance is worth quality.
Check Out Our
Intern Program
Want to train dogs and puppies for service work?
How Far Away Are We From You?
While we can arrange for transportation nationwide. We've listed a series of cities below that are not that far from us. In some cases, we'd be willing to split the drive and meet you somewhere halfway.
*Note* Times listed above are an estimate and driving time may vary depending upon route, traffic, weather, etc.
Time to Travel From
South Carolina
*Note* Locations listed above are an estimate and driving time may vary depending upon route, traffic, weather, etc.
Time to Travel From Virginia:
*Note* Locations listed above are an estimate and driving time may vary depending upon route, traffic, weather, etc.
Knoxville, TN - 6 Hours, 20 Min
Chattanooga, TN - 7 Hours, 45 Min
Kingsport, TN - 5 Hours, 30 Min
How Far From Tennessee
While we can arrange for transportation nationwide. We've listed a series of cities below that are not that far from us. In some cases, we'd be willing to split the drive and meet you somewhere half way.
*Note* Locations listed above are an estimate and driving time may vary depending upon route, traffic, weather, etc.
Page [tcb_pagination_current_page] of [tcb_pagination_total_pages]