Raina

is a registered Doberman Pinscher under

Tackleberry Solutions

and is specifically bred for service as a protection dog.

Born June 21, 2022
Raised in a Litter of 8
Female
Red
Breeder: Amy Arthur
ID # Breakdown
Press Play - Protection Training
Press Play - Athena
Personality
The name "Rani" [rah-nee] is a word used by the Native Americans meaning "queen." This is to suggest one that is a powerful and effective protector of her domain.
Raina took her test on 8/8/2022 and scored a very solid C although her personality is developing very quickly towards an A mentality.
Raina was the alpha of her entire litter. While she is loving towards people, she is not afraid to assert her dominance towards her siblings. This is actually a very good sign for a protection dog because playfulness and confidence are key factors for that type of training.
In conjunction with that, she seems to have inherited her mother's fiery personality and agility but her father's size.
While she is feisty, she is also super loving.
Mrs. Author was an outstanding person to deal with both before and after I got Raina. I was going through some unusual circumstance early in the process and Mrs. Author was always understanding. Not to mention I am computer aliterate, so I was always needing her to talk me through it. Ha!!!

After Raina moved in with me, I had lots of questions. It had been many years since I had raised a pup. Mrs. Author was always there to provide advice and loads of info.

Lastly, Raina has proved to be a top-of-the-line Doby. She catches on to commands quickly and would no doubt be an excellent Personnel Protection Dog with proper training. On a 5-hour PPD training class Raina, during her first class, immediately lounged and clamped down on the trainer's gear. The trainer was impressed. Not many dogs on their first secession immediately know what she is supposed to do. I got videos to prove it. No doubt for a 5-month-old it is in blood.

My thanks to the Author family and special thanks to Mrs. Author. And if you're looking for a Quilty Doby Tackleberry is the place to go!!!!!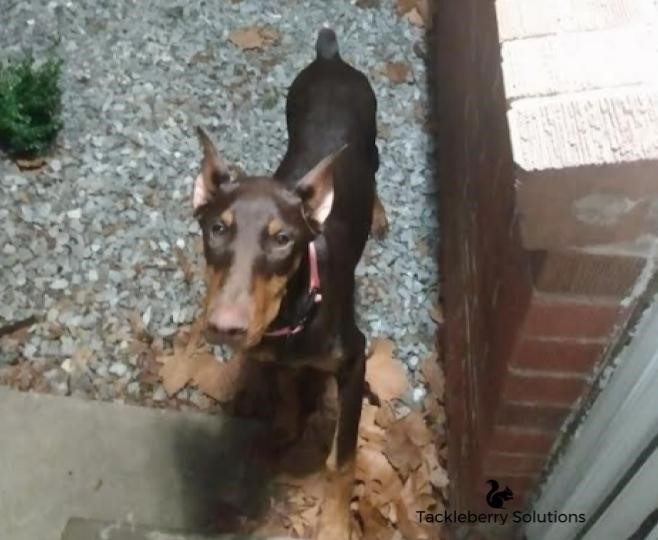 Click here to view more google reviews.
Tackleberry Solution's Protection Canine: Athena
Athena personally belongs to the owner and founder of Tackleberry Solutions, Christopher Arthur. She is our smartest, most agile and hardworking canine. Athena is the only one of our dogs that excels in every area that we've trained her in: Bite/Protection work, Search & Rescue, and Therapy. Athena loves her job and she shows it when it is time to train. Click here to view her personal page.
Tackleberry Solution's Protection Canine: Zeus
Zeus is a 100% European purebred Doberman Pinscher. He is very loving and enjoys playing. While Zeus is protective of his family, he is also very friendly to visitors and does very well with children. Click here to view his personal page.
Personal Protection Bite and Tracking
Purebred Dobermans
Enter your email address if you'd like to be notified when we have puppies available.